You will see all the candidates that have applied to your locations in this tab.
Keep your applications organized by changing their status! Navigate between the sorted lists by clicking on the buttons at the top of your screen.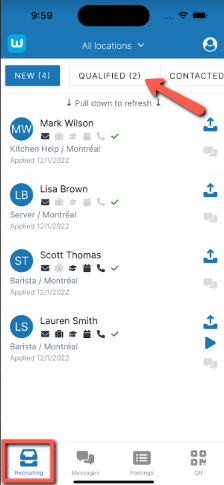 You can choose between the following options:
NEW - This is the default status. New applications will appear in this table.
QUALIFIED - Use this status if you have viewed the profile and have determined that the candidate meets all the requirements necessary for the job.
CONTACTED - This status indicates that you have contacted the candidate via direct message, phone, or email.
HIRED – Use this status for candidates you have hired. Don't forget to turn off the role in the Postings tab to prevent further applications from coming in.
DECLINED – A message will be sent to the candidate letting them know you will not be moving forward with their application.
NURTURING - You can use this status if you're not moving forward with the candidate's application at this time but would like to consider them for a future opportunity.