What are the icons under the applicant's name?
These icons tell you which fields have been completed by an applicant. Dark gray means that the field was completed while light gray means that it is empty.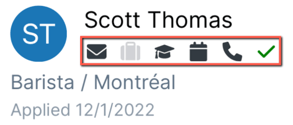 - Confirmed Email
- Experience
- Education
- Availability
- Phone number
- Checkmark - A green checkmark indicates that the candidate has completed all sections marked as required for the role.